Lot's of polishing + one annoying issue fixed.
Here are the major improvements:
Aug 30th
– Added music to combat scenes and improved sounds all over the game
– Improved visuals of game start, when getting out of the cryo chamber
– Improved HUDs – updated hitpoint indicator on creeps and towers, new visuals for virtual hands
– Autonomous tower controllers – when possessing an autonomous tower they are more intuitive to control
– Improved level selection menu
– Improved landscape visual effects and added sand storms
– Storlyline fixes
– Fixed laser beams being caped
– No more shooting through things
Aug 31st
– Improved game menu
– Remade visuals for prolog (Hit "reset storyline" in the menu to watch, but it will erase your progress)
– Hitpoints/Time-indicator on PDS guns counter recoil
– Added spectator mode
– Added commentaries: Tower down, Strider down
– "Get out of the Console"
– Fix for the PDS arms being on the way when shooting
About the arms being on the way – after watching a few folks playing the game is was clear we must make the arms move away.
The initial idea was to attach the rotation to the headset location, but then you won't be able to see the beauty of the arm and won't get same feeling about their size.
Eventually we decided to attach the rotation to the guns, so you still have the chance to look around and see the mech arms around you.
Please tell us in the comments what do you think of the fix?
Here is a cool drawing Moyasisyamo sent us to explain the arms issue: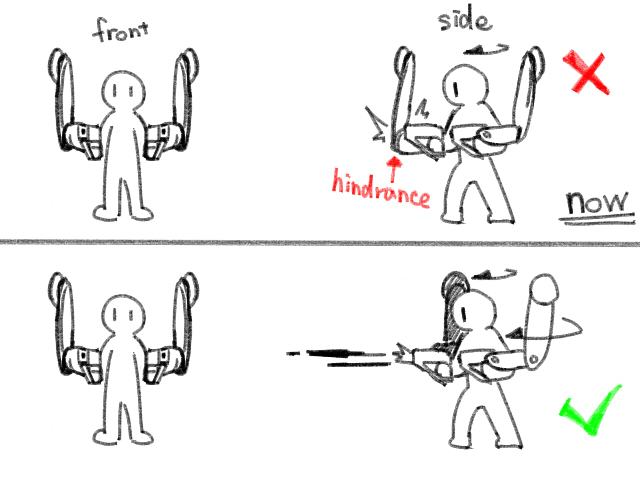 Thanks Moyasisyamo!